HLM among big name architects to win spots on university's framework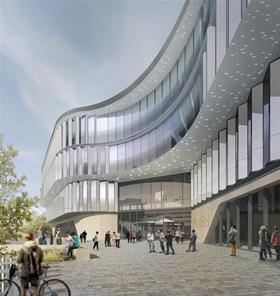 Eight architects have won places on two University of Sheffield frameworks.
The frameworks, which cover projects worth up to £4m and projects worth more than £4m respectively, are set to run until 2022.
Hawkins Brown, Sheppard Robson, Bond Bryan and HLM all won spots on the lot which will deliver bigger projects for the university.
HLM also won a spot on the framework which covers jobs worth up to £4m, as did Rance Booth Smith, Castle Owen Construction & Property Consultants and Watson Batty.
The two contracts are part of a larger consultancy services framework with additional lots covering town planning, project management, structural engineering, and cost consulting for the South Yorkshire University.
The awards comes three years after Feilden Clegg Bradley Studios and Grant Associates created a masterplan to revamp the university.
According to the contract award notice the successful firms will deliver "architect services including design, development and documenting [of] all architectural elements via drawings, models, schedules and specifications".
Firms will also be required to advise on quality control and to act as lead designer in the development of coordinated design work with other consultants.
Last year plans by HLM for a new social sciences building (pictured) got the go-ahead by the local council.
The four-storey scheme will be built on a sports pitch in the Broomhill area of the city, just to the west of the university's main campus.
Work on the new 17,000m2 building will begin next January.
The social sciences faculty is the university's largest with more than 9,000 students – accounting for a third of the university's total student population.