RICS warns a lack of new stock on the market is leading to an unbalanced housing market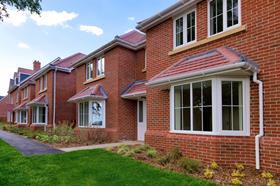 A lack of new housing stock is leading to an "unrealistic" housing market in parts of the UK, as prices moved up in November, according to the latest RICS residential market survey.
In November, 49% more chartered surveyors across the UK saw house prices rise rather than fall, compared to 34% in October, with prices increasing in all parts of the UK.
The RICS survey also revealed the number of new properties on the market fell for the tenth consecutive month. RICS said buyer demand has outpaced supply over each of the past six months, leading to what it called an "unrealistic" market.
Simon Rubinsohn, RICS chief economist, said he expected house prices to continue to rise in early 2016 due to the lack of supply.
He said: "I can't recall a set of comments in the residential survey which have so frequently drawn attention to lack of stock on the market.
"Given this, it is hard not to envisage prices continuing to climb upwards as we move through the early stages of 2016.
"It remains to be seen how successful the government's latest set of initiatives will be in driving up the rate of new build but with the best will in the world, it is likely that the boost to demand will come through rather more rapidly than the expansion of the development pipeline."
House prices rose fastest in East Anglia, the South East and the East Midlands. However, in London, the rate of price growth slowed for the fourth consecutive month
Last year's stamp duty changes have also been cited by some of the respondents as holding back the prime market in some areas of the UK, most notably London and the South East, the survey said.
The positive outlook was attributed to the new housing policies, such as the New Help to Buy and Starter Homes initiatives announced in the Autumn Statement in November.
Respondents to the survey said that although they expect house new building to increase it will not be enough to take the market back to more sustainable levels and prices will continue to rise.