Housebuilder benefits from decision not to furlough staff during spring lockdown
Persimmon saw revenue fall by just 9% in 2020, despite the covid-19 crisis after the housebuilder decided to keep staff working during the spring lockdown.
In an end-of-year trading update published this morning, the firm reported revenue of £3.33bn, down from £3.65bn in 2019.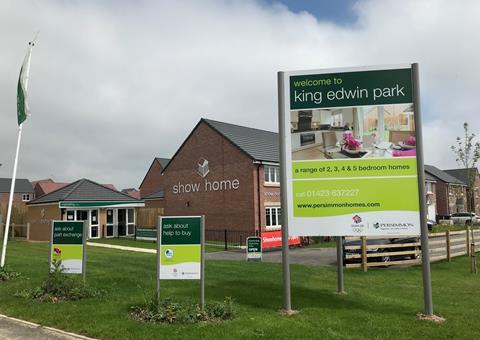 It said revenue came from the construction of 13,575 homes in 2020, down 14% from the 15,855 built in 2019, which were sold at an average price 7% up on 2019.
The drop in revenue at Persimmon contrasts with a much bigger impact on trading from the spring lockdown seen by housebuilders that furloughed staff during the crisis. Vistry yesterday reported that 2020 completions in its housebuilding business were down by a third on 2019.
New Persimmon boss Dean Finch said the "robust performance" for the year had been possible because of the firm's "advanced build coming into the year, an agile and effective response to the covid-19 pandemic and resilient customer demand".
In the City statement, Persimmon said the strong market in the second half of the year had mitigated the impact it did see from the virtual closure of the sector between late March and early May but warned that sales had returned to more normal levels in the last three months of the year.
Despite the strong demand for homes and healthy forward sales, Persimmon said there were "uncertainties" remaining around the impact of the pandemic "particularly with regard to unemployment levels and consumer confidence" and that the firm was "also mindful of the potential impact of an end to the stamp duty holiday" – which is due to finish on 31 March.
Cenkos analyst Kevin Cammack said: "Persimmon had a cracking 2020 relative to its peers which for the most part reflects its decision to pretty much keep working through lockdown, the period which devastated the sales and earnings of most of the sector."
The firm is due to unveil its final year results on 3 March.