Firm's manager sees off competition from four other enties including those by architects Barton Willmore and PRP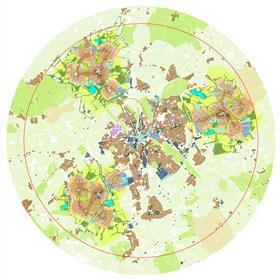 A designer from urban design and research consultant Urbed has won the £250,000 Wolfson Economics Prize for his garden city proposals.
David Rudlin manager of Urbed, saw of competition from four other entrants for the prize - which sought propossals on how to roll out garden cities across the UK - including architects Barton Willmore and PRP to take the prize.
Homelessness charity Shelter was awarded a £50,000 runner-up prize.
Rudlin's entry, which was selected by the independent panel of judges from the 279 entries submitted, was prepared in collaboration with staff from finance consultant TradeRisks, Jon Rowland Urban Design and Manchester University.
His submission argued for the near-doubling of up to 40 existing large towns to provide new homes for 150,000 people per town, built over 30 to 35 years.
The entry imagined a fictional town called Uxcester to develop the concept and argued that expansion of existing towns was the best way to accommodate growth, regenerate town centres, and protect much-loved countryside and the setting of surrounding villages.
Lord Wolfson, founder of the prize, said there were "many powerful and creative proposals" entered but that Rudlin's was a "tour de force of economic and financial analysis, creative thinking and bold, daring ideas".
Trevor Osborne, the chair of the prize's judging panel of five judges, said: "It has been very difficult to pick an overall winner, especially since each finalist has taken a distinctive approach… However, we have decided unanimously that David Rudlin should be awarded the £250,000 top prize, and offer our congratulations to him and his team."
Rudlin said: "I am delighted that our distinctive approach to building garden cities has been recognised by the judges, as will the good people of the fictional city of Uxcester that we created for the submission."