Combined firm also reveals top management team and plan to help finance UK schemes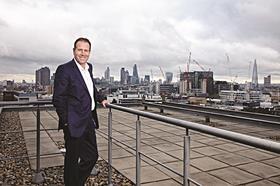 Engineering giant URS will be rebranded as Aecom as early as January following the two firms' £2.3bn mega merger, Building can reveal.
The decision comes after the firm hired brand consultants to discuss the move with customers and staff and comes as Steve Morriss, Europe, Middle East and Africa (EMEA) chief executive, named his senior leadership team.
Morriss said the rebrand "certainly won't" happen before January next year, but added that "I doubt it'll be terribly long."
Aecom has also revealed it intends to launch additional services in EMEA, including a capital division that will offer to partner with clients to help finance development projects.
The two US-based behemoths closed on the merger deal last month, creating a combined global company with $19bn (£11.1bn) revenue and more than 95,000 employees, as well as creating the UK's second largest consultant by headcount, with around 7,000 staff.
Morriss will lead the 18,000 strong EMEA business alongside John Horgan, former URS Europe, Middle East and India managing director, who has been appointed managing director for EMEA.
Of 13 executives named in the senior leadership team, 10 are former Aecom directors, while three, including Horgan, hail from URS.
Peter Flint, former Davis Langdon partner, retains the key Buildings + Places lead role - which includes responsibility for construction consultancy services – while Pat Flaherty has been named overall managing director for the UK and Ireland.
Senior URS executives Frank Thiesen and Peter Skinner have taken top jobs in the industrial, power, oil and gas sector and the environment sector respectively, reflecting the firm's greater presence in those markets.
In an exclusive interview with Building, Morriss said Aecom is planning to launch additional services in the EMEA region following the merger, including the financing of projects on which it was a consultant.
Aecom Capital in the US has already committed $150m (£95m) to support about $2.8bn (£1.8bn) of development, and is in discussions to do similar investments in the UK.
Morriss said the firm seriously contemplated an entirely new name for the combined business to "try and emphasise this combined entity was something quite different from either of the old businesses," but the decision was made after feedback from customers in emerging markets gave a "clear steer" of preferring Aecom.