National Hickman has been taken over by Masonite International for £52m as US buyers look to invest in stable UK market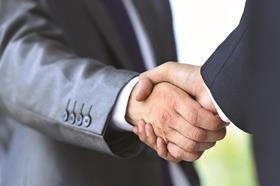 Building materials specialist National Hickman has been snapped up by a US firm for $82m (£52m).
Masonite International Corporation announced the acquisition yesterday.
National Hickman employs 400 people at sites around the UK.
Chris Virostek, senior vice president, strategy implementation and corporate development, at Masonite said: "Hickman's leadership in providing doorkit solutions to the homebuilder market in the UK is a natural extension of our UK business. Hickman's deployment of automation and product line leadership complements the strategies we are pursuing with our business."
Investment bank Lincoln International has been advising National Hickman on the sale and Phil McCreanor, head of UK M&A at Lincoln International, said: "Competition for construction companies is likely to intensify as the improving economy underpins confidence in the sector."
"We are already seeing interest from both trade and private equity buyers in the right targets, with cross-border interest having a dynamic effect on the mid-market M&A market in the UK. The strength of the dollar, US banks' willingness to lend and high corporate valuations in the US are increasing interest in cross-border acquisitions.
"For US buyers, the dynamics of their own domestic market make investing in a stable, growth market like the UK very attractive."