Contracting giant's CEO labels performance 'not acceptable'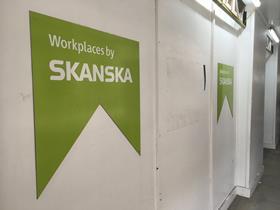 Skanska's total operating profit nearly halved in the first nine months of 2018, thanks to a series of writedowns and other costs relating to the Swedish contracting giant's US operation and following what the firm's chief executive described as an unacceptable performance.
While the firm reported a 3% rise in overall turnover for the nine months to the end of September to SEK120.8bn (£10.bn), operating income fell 49% to SEK2.4bn (£202m).
The third quarter saw goodwill impairment charges and project writedowns totalling SEK1.3bn (£110m) relating to Skanska's US construction activities.
The firm's first half had already been hit by a series of restructuring costs and writedowns relating to US and Polish construction businesses totalling SEK1.1bn (£93m).
The group's construction arm plunged into the red in the third quarter, posting a loss of SEK310m (£26m) despite turnover rising 5%, versus an operating profit of SEK918m (£77.5m) a year ago.
Skanska chief executive Anders Danielsson said the performance of the US operation was "not acceptable", adding that it had overshadowed a strong showing elsewhere in the business.
Danielsson said measures were being taken to turn the construction arm around, which last year accounted for 86% of the firm's turnover and 18% of its operating profit, including exiting the US power sector.
Skanska would also stop bidding for large design-build PPP or engineering procurement and construction projects, he added.
The firm said its overall construction market outlook remained positive, although in the UK uncertainty around Brexit was limiting investments in the non-residential building sector would result in a weaker market in the coming 12 months.
The civils market was likely to be more stable over the coming year, the firm added.