The value of construction disputes in 2014 grew sharply in value to an average of £32m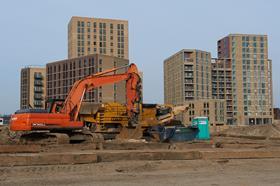 The average value of a major construction project dispute across the world grew more than 50% to an average of £32m in 2014, according to new report from Arcadis.
The report, Global Construction Disputes: The Higher the Stakes, the Bigger the Risk, also said that average time taken to resolve these disputes increased to over 13 months for 2014, with most arising from the transportation sector.
Mike Allen, global leader of contract solutions at Arcadis, said that these projects are "often highly complex and with a combination of tender pricing made during the recession and low availability of resources" making disputes much more likely and costly. The average value of major construction dispute across the world in 2013 was just £20m.
Construction disputes in the UK, however, dipped in average value slightly from £17.8m in 2013 to £17.2m in 2014 as it returned to growth.
The most common causes of disputes in the UK and globally arose from failures to administer contracts or comply with their obligations, as well as poorly drafted or unsubstantiated claims.
Gary Kitt, head of UK contract solutions at Arcadis, said: "It's encouraging to see a slight dip in the value of UK construction disputes, which is largely due to a greater willingness by parties to compromise before the onset of formal proceedings and UK courts that are actively seeking to control costs.
The report found the highest construction dispute values to be in Asia at £54.5m in 2014, closely followed by the Middle East at £48.8m.
The number of projects going into dispute is expected to rise in 2015 due to the low margins agreed during the financial crisis and labour shortages.