Network Rail was biggest spending client during the month, according to Glenigan data
Clients handed out nearly £4.6bn worth of work in November – an increase of almost £800m from the previous month, according to the latest data from Glenigan.
The figures (see below) reveal that the most work was awarded in the infrastructure sector, with firms here inking deals worth just under £1.2bn – or around 25% of all work awarded in the month.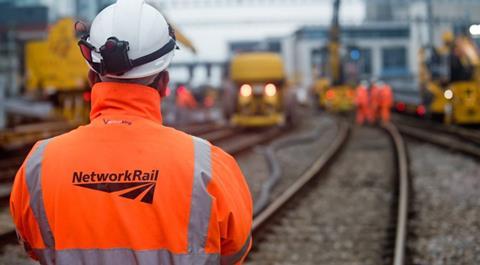 The top client in this sector was Network Rail, which handed out 13 deals worth £801m, just over two-thirds of the total value of civils deals.
The next most prolific sector was social housing, with clients here awarding firms £1.04bn of work.
This was followed by those in the utilities sector, at £389m, and industrial clients awarding £387m worth of work.
Meanwhile, the data has also revealed that £8.62bn worth of projects were approved in November, up from the near £6bn rubber-stamped the previous month.
The private housing sector was the market with the most approvals, securing permission for 354 schemes worth £2.8bn.
In private housing, Barratt secured approval for the most schemes, with the firm given the go-ahead on six projects.
It was followed by Vistry and Persimmon who got approval to push ahead with five developments each. This does not include projects that are being developed as joint ventures.
After private residential, civil infrastructure achieved the second-highest value of approvals at £2.2bn.
Top spending clients - November 2020
The tables below show contract awards by sector for August put together by Glenigan. They are just a small part of the client information that is accessible through the Building Boardroom Network.
The Building Boardroom Network is an easy to use portal where you will be able to access a wide range of vital business insight including research and tools to help bring your construction clients to life. Find out more at: https://www.building.co.uk/building-boardroom/

Social housing
| Ultimate company name | Total number of projects | Total value of projects |
| --- | --- | --- |
| Drakar | 1 | £470m |
| University of Bristol | 1 | £50m |
| London Borough of Hounslow | 3 | £42m |
| Thames Valley Housing Association | 1 | £40m |
| Curo | 1 | £36m |
Retail
| Ultimate company name | Total number of projects | Total value of projects |
| --- | --- | --- |
| Co-operative Group | 24 | £14m |
| Lidl UK GMBH | 5 | £12.3m |
| House Of Fraser (Stores) Ltd | 1 | £10m |
| Consolidated Developments Ltd | 1 | £9m |
| Wm Morrison Supermarkets Plc | 2 | £6.6m |
Private housing
| Ultimate company name | Total number of projects | Total value of projects |
| --- | --- | --- |
| Inspired Villages | 1 | £32m |
| Elevate Design Build/Trent Bridge Quays | 1 | £30m |
| PG Developments | 1 | £28m |
| River Oaks Homes | 1 | £26m |
| Citylife Developments | 1 | £26m |
Offices
| Ultimate company name | Total number of projects | Total value of projects |
| --- | --- | --- |
| Cannon Kirk | 1 | £68.2m |
| Albion Land | 1 | £58.5m |
| Facebook | 1 | £26.1m |
| British Telecom Group | 1 | £19.6m |
| Bio Med Realty | 1 | £15m |
Medical & scientific
| Ultimate company name | Total number of projects | Total value of projects |
| --- | --- | --- |
| Department of Health | 36 | £107.5m |
| The University of Southampton Science Park Ltd | 1 | £8m |
| Wiltshire Council | 1 | £7m |
| Akzo Nobel International Coatings Ltd | 1 | £7m |
| Yorkake Homes Ltd | 1 | £5m |
Industrial
| Ultimate company name | Total number of projects | Total value of projects |
| --- | --- | --- |
| St Modwen Properties | 4 | £42.9m |
| Wykeland Group | 1 | £30m |
| Chancerygate | 1 | £30m |
| Leonardo Marconi Westland | 1 | £25m |
| The University Of Sheffield | 1 | £21m |
Hotel & leisure
| Ultimate company name | Total number of projects | Total value of projects |
| --- | --- | --- |
| National Portrait Gallery | 1 | £60m |
| Ark WeWork | 1 | £30m |
| Reading Football Club/The Forest School | 1 | £15.7m |
| South Essex College/Southend On Sea Borough Council | 1 | £14m |
| Elephant & Castle Projects | 1 | £13.21m |
Education
| Ultimate company name | Total number of projects | Total value of projects |
| --- | --- | --- |
| Buckinghamshire County Council | 2 | £41.03m |
| Department for Education | 4 | £36m |
| University of Hull | 1 | £30m |
| University of Northampton | 1 | £29.9m |
| Elmbridge Borough Council | 1 | £19.45m |
Civil (infrastructure)
| Ultimate company name | Total number of projects | Total value of projects |
| --- | --- | --- |
| Network Rail | 13 | £801.5m |
| Devon County Council | 1 | £70m |
| Olympus Property | 1 | £50m |
| Birmingham City Council | 1 | £27.1m |
| Newlands UK | 1 | £23.3m |

* private housing awards data refers to external contracts only and does not include frameworks
** projects awarded by a joint venture are listed independently to both single party clients