Oxford university was biggest spending client during the month, according to Glenigan data
Clients handed out nearly £3.8bn worth of work in October – a fall of almost £600m from the previous month, according to the latest data from Glenigan.
The figures (see below) reveal that the most work was awarded in the private housing sector, with firms here inking deals worth just over £653m – or around 17% of all work awarded in the month.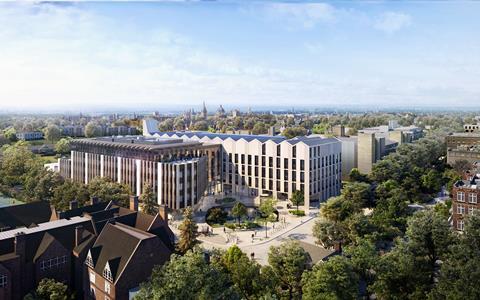 Wates' £202m deal to build Oxford university's new life and mind building was the highest value deal to be struck in October.
The top client in this sector was The High Street Group which handed North-east contractor Tolent a £120m contract to build its Strawberry Place development in Newcastle, comprising 305 residential units and 12,000sq m of office space. Construction is due to last 20 months and start next June.
The next most prolific sector was education, with clients in this sector awarding firms £577.7m of work.
This was followed by those in the civil infrastructure sector, at £546.7m, and clients working in social housing at £452.2m.
Meanwhile, the data has also revealed that £5.97bn worth of projects were approved in October, down from £9.48bn of projects in September.
The private housing sector was the market with the most approvals, securing permission for 329 schemes worth £1.9bn.
In private housing, Bellway, Barratt and Persimmon secured approval for the most schemes, with each firm given the go-ahead on four projects.
They were followed by Countryside and Wates who got approval to push ahead with three developments. This does not include projects that are being developed as joint ventures.
After private residential, industrial clients achieved the second-highest value of approvals at £825m.
Top spending clients - October 2020
The tables below show contract awards by sector for August put together by Glenigan. They are just a small part of the client information that is accessible through the Building Boardroom Network.
The Building Boardroom Network is an easy to use portal where you will be able to access a wide range of vital business insight including research and tools to help bring your construction clients to life. Find out more at: https://www.building.co.uk/building-boardroom/

Social housing
| Ultimate company name | Total number of projects | Total value of projects |
| --- | --- | --- |
| Cassidy Group | 1 | £70m |
| London Borough of Newham | 2 | £70m |
| CKC Properties/Curlew Capital/Harper Group/Student Urban Living Bermondsey | 1 | £60m |
| Notting Hill Genesis | 1 | £21.03m |
| Caerphilly County Borough Council | 1 | £18.4m |
Retail
| Ultimate company name | Total number of projects | Total value of projects |
| --- | --- | --- |
| Lidl UK GMBH | 4 | £14.9m |
| Premcor Estates/Wyngrove Ltd | 1 | £14m |
| Co-operative Group | 15 | £9.084m |
| Asda Group Plc | 7 | £6.87m |
| Gaw Capital/Solid Foundation Ltd | 1 | £6.5m |
Private housing
| Ultimate Company Name | Total number of projects | Total value of projects |
| --- | --- | --- |
| The High Street Group | 1 | £120m |
| Patrazia Immobilien AG/Warwickshire County Cricket Club | 1 | £85m |
| Acton Gardens | 1 | £47.5m |
| Brentford Football Club/Kew Bridge Gate Developments/Prime Place Developments Limited | 1 | £36.82m |
| Be:Here Ealing/Kew Bridge Gate Developments/Lionel Road Development/Prime Place Developments | 1 | £32.88m |
Offices
| Ultimate company name | Total number of projects | Total value of projects |
| --- | --- | --- |
| M & G Real Estates | 1 | £40m |
| Broadway Jersey Trustees 1 & Broadway Jersey Trustees 2 as Trust/Valla Ltd | 1 | £13.3m |
| City & Provincial Properties | 1 | £10m |
| Nord Bristol Joint Venture | 1 | £10m |
| Opus Land | 1 | £9m |
Medical & scientific
| Ultimate company name | Total number of projects | Total value of projects |
| --- | --- | --- |
| Department of Health | 19 | £92.244m |
| Welsh Assembly Government | 2 | £88m |
| University of Salford | 1 | £13m |
| University of London | 1 | £12m |
| Aberdeen City Council/Department of Health | 1 | £11m |
Industrial
| Ultimate company name | Total number of projects | Total value of projects |
| --- | --- | --- |
| Mountpark Logistics | 1 | £120m |
| IDI Gazeley | 1 | £61.98m |
| Newcold Advanced Cold Logistics | 1 | £59.4m |
| Prowell | 1 | £40m |
| Wepa UK | 1 | £25m |
Hotel & leisure
| Ultimate company name | Total number of projects | Total value of projects |
| --- | --- | --- |
| Belfast City Council/Templemore Swim Centre | 1 | £17m |
| Town Centre Securities | 1 | £15m |
| Nottinghamshire YMCA | 1 | £12.3m |
| Alliance Leisure Services/Dudley Metropolitan Borough Council | 1 | £10.82m |
| Goldrange Properties/Maybourne Hotels | 1 | £8.187m |
Education
| Ultimate company name | Total number of projects | Total value of projects |
| --- | --- | --- |
| University of Oxford | 1 | £202m |
| Manchester Metropolitan University | 1 | £45m |
| Leeds City Council | 4 | £44.407m |
| Peterborough HE Property Company Ltd | 1 | £30m |
| Department for Education/Thurrock Borough Council | 1 | £25m |
Civil (infrastructure)
| Ultimate company name | Total number of projects | Total value of projects |
| --- | --- | --- |
| Suffolk County Council | 1 | £126.75m |
| West Midlands Combined Authority | 1 | £56m |
| Sheffield City Council | 2 | £47.4m |
| Stoke On Trent City Council | 1 | £43.3m |
| Network Rail | 6 | £42.425m |

* private housing awards data refers to external contracts only and does not include frameworks
** projects awarded by a joint venture are listed independently to both single party clients