Overall project starts down by nearly a third, according to new Glenigan analysis
The value of major project starts has plummeted by 50% in the last three months, according to new analysis of industry trends.
Glenigan's November review found the total value of starts for projects worth £100m or more halved in the three months to the end of October compared to the preceding quarter.
Smaller projects, worth less than £100m, also slumped by 16% in the same period, while the value of smaller civil engineering starts fell by 32% and were down 43% on last year.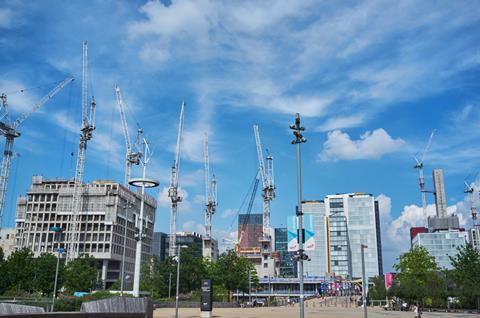 The figures reveal that the overall value of construction project starts dropped by 29% in the three months to October and were 17% lower than the same period last year.
Glenigan said the downturn is likely to represent a temporary autumn slump following a summer of intense construction activity and predicted growth to return across the sector next year.
And the review provided some signs of optimism, including a 4% rise in the value of main contracts awarded in the last three months compared to the preceding three months.
The value of planning consents edged up by 2% and was 17% above the same period in 2019, although the figure was unchanged on 2020.
The value of smaller industrial starts also bucked the trend, increasing by more than 40% compared to the previous three months while the hard-hit office sector showed further signs of recovery with an 8% rise.
Glenigan economic director Allan Wilen said: "Tough times continue as disruptive global events continue to hit hard, however a gradual increase in contract awards and planning consents indicate momentum will soon start to revive."
But he added: "Of course, ready availability of personnel and material when shovels need to go into the ground will determine how long the slump in starts persists."
The figures revealed huge regional divides, with the value of overall starts rising by 2% in London and 3% in the North West but plunging by 51% in Wales, where they are now some 74% below where they were a year ago.
Wilen said the imbalance will "no doubt become a priority" for communities secretary Michael Gove ahead of the publication of the Levelling Up White Paper, which will set out the government's strategy for tackling regional inequalities.