Construction revenue driven up by HS2 contracts
Pre-tax profit is on the rise at French giant Vinci, with €2.9bn (£2.4bn), reported in half-year results released today.
The construction and airports group is up from the €1.6bn (£1.3bn) recorded in the six months to 30 June 2021.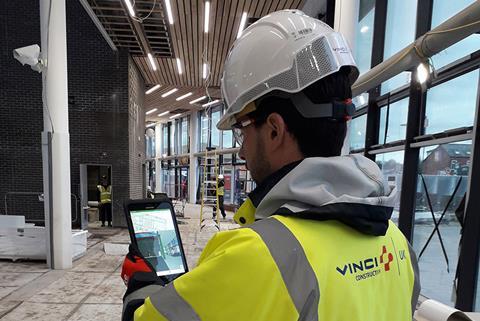 The firm expects full-year net income to be higher in 2022 than before the pandemic, with €28.5bn (£24bn) taken in so far this year.
That is up 26% on the €22.6bn (£19bn) recorded in the same period last year and 31% up on the same period pre-pandemic.
Revenue at its construction arm, its biggest division, was €13.5bn (£11.4bn) for the six months to 30 June, an increase of 11% on the same period last year.
Construction revenue from outside of France accounted for just over half of business and was up 18% year-on-year, driven by the ramp-up of several large contracts, including two HS2 packages.
The firm is part of a joint venture with Balfour Beatty and Systra to build a new station at Old Oak Common.
>> Contractor sought for £30m HS2 job at Old Oak Common station
Chairman and chief executive Xavier Huillard said: "Vinci Construction maintained good business levels, buoyed by its stronger international footprint.
"Its operating margin, which has demonstrated resilience, improved in the period.
"Despite a more selective approach to new orders because of cost inflation, order intake remained firm and order books continue to be very robust.
"As a result, the group has good visibility on its future business levels, despite a more uncertain economic environment."
According to the statement, Vinci Construction is expected to remain busy and improve its operating margin.