Firm increases profit but Nottingham tram job continues to keep civils business in the red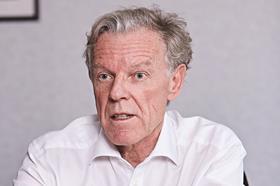 Despite posting a near-8% dip in turnover last year Vinci UK ramped up its profitability thanks in part to a "major contribution" from the sale of land on the site of the New Covent Garden Market scheme at Nine Elms in London.
Overall group turnover in the year to 31 December 2017 fell 7.7% to £896m but pre-tax profit rose from a re-stated £4.6m to £22.4m.
Vacant possession on the New Covent Garden site enabled Vinci and its joint venture partner on the project, St Modwen Homes, to complete a sale of land on its northern site which gave rise to a "significant dividend" to Vinci, which led to a "major contribution" to the group's net profit in 2017.
While the firm has long been mired in the Nottingham tram saga, Vinci said its building division had performed well, including work on student accommodation in Cardiff, the Liverpool Life Sciences building and Wigan bus station.
Vinci said it had seen awards of business tail off towards the end of 2017 as the market tightened "with fewer opportunities and greater competition", although £40m-worth of work had already been secured for 2018. The firm recently took over work previously being undertaken by Carillion, which collapsed in January.
And the group said it was preferred bidder on more than £450m of new work.
But ongoing problems at the Nottingham job meant Vinci UK's civil engineering operation, which trades under the historic Taylor Woodrow name, fell further into the red in 2017, seeing its 2016 loss of £12.6m grow to £17.7m, on turnover down by nearly a quarter to £205m, due to larger projects reaching completion.
It said operating profit across the civils business excluding the Nottingham scheme came in at £1.2m, suggesting work on the tram project made a £16.5m loss.
Two of Vinci's unnamed loss-making projects in the division are unlikely to turn a profit until their completion, the firm added.
Its scheme to extend the Nottingham tram was signed in 2011 and the deal was one of a number which prompted the firm's Paris head office to parachute Bruno Dupety (pictured) into the chief executive's post back in October 2014.
And Vinci's facilities arm recorded a 3% dip in turnover to £230m but pre-tax profit rose 50% to £5.5m.
In a statement the firm said the post-Brexit outlook was "unclear", but it was well placed if the government was to increase public spending on infrastructure, health, education and prisons "given our place on the public frameworks for Department of Health and Ministry of Justice and recent transportation hub experience".