Sun's rays reflected from Land Securities and Canary Wharf tower blamed for melted car panels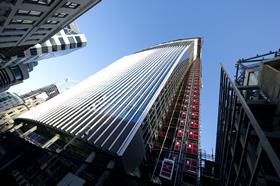 The Walkie Talkie is melting parked cars nearby because of the light reflected off its glass facade, it has been claimed.
A man who parked on Eastcheap near the building, which is designed by architect Rafael Viñoly and is being developed by Land Securities and Carary Wharf, claimed the light bouncing off the tower's glazing melted parts of his Jaguar XJ.
The owner of the Jaguar, Martin Lindsay, parked his car in one of the bays last Thursday only to return to find plastic panels and a wing mirror had wharped.
The City of London has now halted use of three parking bays on the street. A spokesperson for the local authority said the cause was being investigated.
Lindsay told City AM: "They're going to have to think of something. I'm gutted. How can they let this continue?"
The paper also spoke to Eddie Cannon, a heating and air conditioning engineer, who said his Vauxhall van had suffered similar damage the day before: "The van looks a total mess – every bit of plastic on the left hand side and everything on the dashboard has melted."
In a joint statement, Land Securities and Canary Wharf said: "We are taking the issue of light reflecting from 20 Fenchurch Street seriously, and are looking into the matter as a priority.
"The phenomenon is caused by the current elevation of the sun in the sky. It currently lasts for approximately 2 hours per day, with initial modelling suggesting that it will be present for approximately 2-3 weeks.
"As responsible developers we are making every effort to keep local businesses informed and we have communicated with them regularly since the issue first appeared.
"While we investigate the situation further we have liaised with the City of London to suspend three parking bays in the area which may be affected.
"In addition, we are consulting with local businesses and the City to address the issue in the short-term, while also evaluating longer-term solutions to ensure the issue cannot recur in future."