Deal set to run for four years
More than 20 firms have won places on a new build housing framework for the North-west and East Midlands.
The £200m, four-year deal has been divided into lots based on geographical location and project size and is set to be used to deliver social housing.
Winners include Wates, Vistry and Claritas.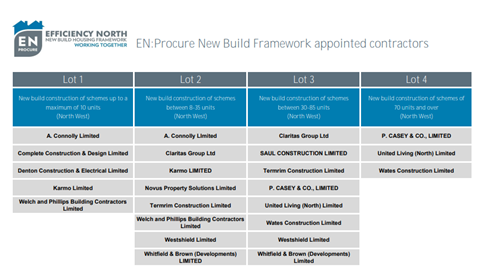 The lots for smaller housing developments of 10 homes and under is aimed to provide opportunities for smaller and medium-sized local firms and has been structured to increase the number of opportunities available regardless of contractors' size or location.
In all, 80% of the firms appointed are SMEs with approximately half of these being locally based.
The new framework is predominantly for social housing but may extend to other public buildings such as schools and offices and other areas of the UK.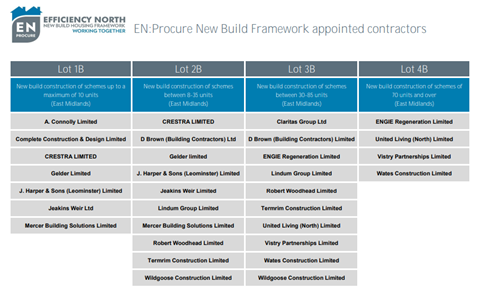 The new framework follows EN:Procure's previous new build frameworks, which between 2016 and 2021, helped procure and develop nearly 2,000 new homes worth £254m.
Training delivery has also been written into the contract, with a minimum of one training opportunity to be provided by the contractor for every £1m works value.