High Speed 2 chair admits firm had "difficulty" in consulting as project faces five judicial reviews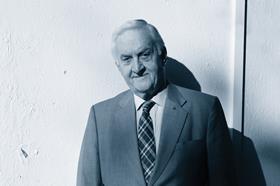 The chair of High Speed 2 has admitted that the firm set up to develop the £32bn high-speed rail line lacked the resources to properly engage with the communities affected by the project earlier this year.
The admission comes as the five judicial reviews challenging the decision to go ahead with the line - which in part allege that the original 2011 consultation was inadequate - are set to be heard in the High Court next month.
HS2 robustly defends the way in which the 2011 consultation was conducted. A spokesman said: "There is absolutely no question that last year's consultation was comprehensive with sufficient resourcing and staff."
However, speaking to Building, Douglas Oakervee, chair of HS2 Ltd, the firm developing the £32bn high-speed rail project to Birmingham and the north of England, said the "difficulty" with carrying out the community forums with affected communities arose when the then transport secretary Justine Greening gave the project the green light in January 2012.
At this point, he said: "We ceased to be an advisory body to government and became about promotion and development - but we only had 80-90 people."
"I think our staff have been doing the best possible job they are able to in the circumstances and now a lot of the issues have been sorted out by government, hopefully it will be a lot easier for them.
"But unfortunately in the time leading up to that you've got people whose minds are soured and they are bitter and they are quite difficult to turn round, but we will."
However, Oakervee pledged that things had improved at HS2 Ltd and past mistakes would not be repeated.
He added that strong statements from local politicians from constituencies along the line and who oppose the scheme had to be treated with care saying that they often tended to use the issue "for their own advantage".
HS2 is currently facing five judicial reviews, set to be heard together in the High Court on 3 December, which include complaints that the original 2011 consultation was not conducted properly around the route for the line or the compensation scheme.
To read the full interview with Douglas Oakervee click here