Listed developer agrees to £500m cash offer by charitable foundation
Urban & Civic is set to be bought by the Wellcome Trust after the board of the developer announced it had accepted a £506m takeover bid from the charity.
The listed developer of large-scale new communities said in a joint statement with the Wellcome Trust that it was unanimously recommending shareholders back the offer of 345p for each share in the business.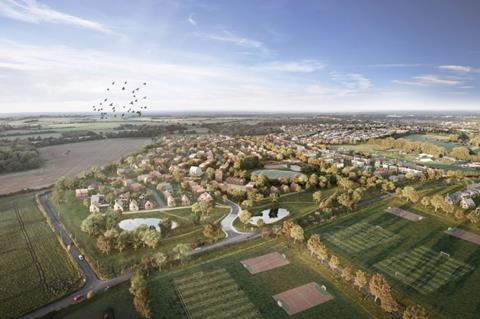 The acquisition appears to have been borne out of the collaboration between the Wellcome Trust and Urban & Civic on the £1.2bn garden community development of Manydown in Hampshire (pictured), which received outline planning permission in July.
Urban & Civic was set up by former Chelsfield boss Nigel Hugill alongside Robin Butler in 2009 to become a "master developer" of large strategic housing sites, such as Waterbeach Barracks in Cambridgeshire.
It now has 10 strategic housing sites under ownership, of which it is building out six already via partnerships with other developers and housebuilders, with 33,500 consented homes.
Explaining the deal, the Wellcome Trust said Urban & Civic was "one of the UK's leading large-scale urban development businesses, with a successful track record" adding that it did not intend to alter its strategy and will retain its current management.
It said it was paying for the purchase in cash, rather than shares.
The Wellcome Trust controls a £26.8bn investment portfolio designed to maximise income for the charitable purposes of the foundation, which is focused on improving public health.