Report by Arup estimates 65 million more passengers a year at three key stations than official figures suggest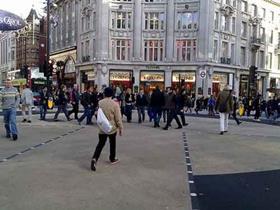 London's streets will require radical new solutions to cope with an unprecedented surge in commuters thanks to the twin impact of population growth and Crossrail, a new report warns.
According to a new study carried out by Arup to mark construction of the £15bn project reaching the half way mark, around 250 million passengers a year will pass in and out of the three key central London Crossrail stations – Tottenham Court Road, Bond Street and Farringdon – by 2026.
This is 65 million more than current official forecasts drawn up in 2004 and still being used to plan for the arrival of the East-West route, the largest infrastructure project in Europe.
Arup director Alex Jan, one of the report's authors, said: "Crossrail stations are designed to handle the flow but there are going to be significant opportunities - and some challenges - for property owners, local authorities, retailers, employers, the entertainment industry and residents."
The report into solutions, also from Arup and London-based consultants Publica, to be published this spring, will examine short-term solutions such as widening pavements and more Oxford Circus-style "diagonal" pedestrian crossings as well as longer term options that could include pedestrianising major routes.
London's transport commissioner, Sir Peter Hendy said: "To make the most of this immense opportunity, we will also need to invest in the environment above ground as well as below it. "
Arup's report was prepared on behalf of three business improvement districts (BIDS) – the New West End Company, Inmidtown and the Fitzrovia Partnership – working with Crossrail, Transport for London and Westminster and Camden councils.