Plans for a £1bn extension to Westfield's shopping centre in west London have been given the green light by planners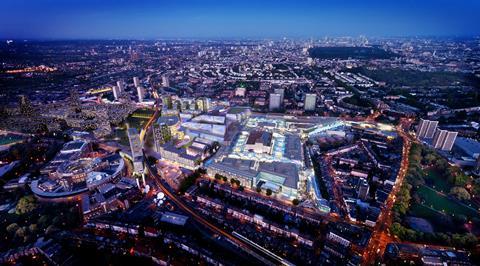 Hammersmith and Fulham council has given the go-ahead to the extension of the shopping centre development, which includes
61,840 sq m of new retail space, as well as 8,170 sq m of space for restaurants and cafes; 2,065 sq m of office space; 3,500 sq m of leisure facilities; and 1,600 sq m of community space.
The scheme also includes 1,522 new homes across the site.
Outline planning consent was originally granted in March 2012 for the scheme, which forms a major part of the Mayor of London's White City Opportunity Area.
Once built, Westfield London will be the biggest shopping centre in Europe.
Duncan Bower, director of development at Westfield, said: "The approval of our Westfield London expansion is an important part of our £3.5bn plus development pipeline in the UK and Europe.
"The plans will provide a dynamic and attractive gateway to Shepherd's Bush town centre in the White City Opportunity Area and is a great example of public-private partnerships working effectively to deliver beneficial regeneration."