Work will include creating 59 new rooms, 13 apartments and a new restaurant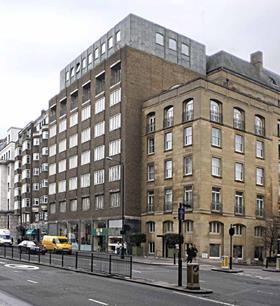 Westminster City Council's planning committee has given the thumbs-up to Rogers Stirk Harbour & Partners' proposals to overhaul part of the Berkeley Hotel in Knightsbridge, bringing to an end a 12-year development journey for five-star facility.
Along with the neighbouring site of the recently demolished 33-39 Knightsbridge the hotel (pictured), built in 1972 and designed by architect Brian O'Rorke, takes up a whole street block with frontages to Knightsbridge, Wilton Place and Old Barrack Yard and lies immediately to the south of Hyde Park.
RSHP has worked with the owners of the Berkeley Hotel since 2006, masterminding the redevelopment of the building's Wilton Place entrance.
Westminster planning officers had already given the plans the green light, arguing the design was considered acceptable "given the prevailing mixed character of Knightsbridge", adding that it would not cause harm to the setting of the adjacent designated heritage assets "and is in accordance with national and local policy".
With permission granted, developers will replace its northernmost parts, boosting the room count beyond the original 214 to 273, as well as building 13 residential apartment, upgrading guest and staff facilities including a new restaurant and ground-floor retail space.