Berwick Street job running 18 months late
A London council has hauled in bosses from Interserve and the developer behind a planned Premier Inn for a dressing-down after completion of the £25m scheme in Soho was delayed a third time.
The job was due to finish last October but this date slipped to summer 2019, only for that date to be ripped up and moved to the end of this year.
Now lead developer PMB Holdings, which is in a JV with freehold owner Westminster council, has admitted the latest estimate for when it will be completed is spring or summer next year – more than 18 months late.
Timothy Barnes, the council's cabinet member for economic development and lead member for Soho, called the delays "unacceptable" and told Building it had brought in Interserve and PMB to find out what was going on.
He said: "We've called in the developer and main contractors and had several meetings in the last few weeks – along with residents – to review in detail their plans for the final stages of development and minimise the negative effects of the numerous problems that have arisen.
"We expect to see swift progress and will continue to monitor the situation closely. We've taken direct action over a number of unsatisfactory aspects of site management."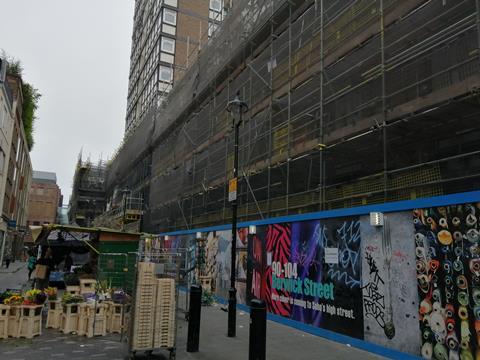 The development on Berwick Street will feature a 110-bed Premier Inn hotel at its heart and will also include retail and residential.
But problems with the groundworks and leaking roofs have seen the scheme repeatedly bust its opening deadline and attract the ire of local market traders and businesses.
Traders have complained about noise and dust coming off the site while residents living in a nearby tower told Building in the summer of their anger over the scheme's "endless delays".
A spokesperson for PMB Holdings, which is owned by property magnate Peter Beckwith, said: "The development of 90-104 Berwick Street will be fully completed by spring/summer 2020 at the latest. We are hopeful that we will deliver it before then."
Interserve, which has spent £35m pulling out of the London construction market, has been contacted for comment.