Contract will run for 10 years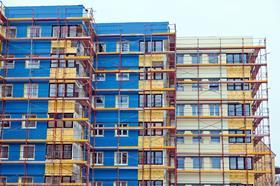 Procurement company Westworks is looking for contractors to join a UK-wide £11bn maintenance and regeneration framework.
The framework will have 11 lots with each one worth £100m a year over a 10 year period.
Lots up for grabs include roofing, groundworks and M&E work.
There is no limit to the number of firms which may be appointed to each lot but suppliers are required to demonstrate a minimum standard of quality.
Once on the framework, companies will be organised by postcodes with all firms able to deliver a service in a given location contacted by a client when needed.
Building understands most clients for the framework are expected to be housing associations but jobs will also come from the police, fire service and Ministry of Defence.
Firms have until 20 April to send in expressions of interest.
The lots are:
Lot 1
Kitchen/bathroom installation
Lot 2
Electrical Installation and testing
Lot 3
Gas installation and servicing
Lot 4
Roofing
Lot 5
Groundworks
Lot 6
Insulation and remedials
Lot 7
Damp Proofing/Waterproofing
Lot 8
Window and door installation
Lot 9
Decorations
Lot 10
M&E building and engineering services
Lot 11
General building