Inquiry hears failed contractor wanted to be charged after reporting deadlines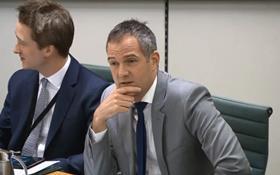 Carillion whistleblowers have said the company asked its suppliers to invoice the collapsed contractor after its reports were finalised, a parliamentary inquiry into the company's liquidation has heard.
Labour MP Peter Kyle said the inquiry had been contacted by a number of people saying it was a common practice by Carillion.
He said: "We have received evidence from several whistleblowers that Carillion would routinely ask creditors to delay invoices until after reporting deadlines."
Representatives from both its external auditor KPMG and internal auditor Deloitte said they were not aware of the practice and could not comment on whether directors would have had knowledge of the practice if it was taking place.
Kyle (pictured) also raised questions about the auditors' knowledge of the cash problems surrounding Carillion's job in Qatar.
Former chief executive Richard Howson told MPs earlier this month that the firm was owed £200m by Mshireb Properties for its work on the Downtown Doha scheme – disputed by the firm
Kyle said: "We heard when directors gave evidence here, Mr Howson very clearly said that he was owed between £180m and £200m.
"You would have seen the letter this morning from Mshireb Properties. They say in this letter: 'Mshireb Properties entirely disputes Mr Howson's statement that Mshireb properties owed Carillion somewhere between £180m and £200m in March 2017. Furthermore, they say 'in fact, Mshireb Properties consider that Carillion owes Mshireb Properties a similar amount of money'."
He asked: "Who owed who £200m?"
Peter Meehan, the KPMG audit partner responsible for signing off Carillion's reports, said: "At March 2017, I don't know. I signed the December 2016 accounts. I know that my client was owed the £73.9m on the balance sheet at 31 December 2016. They are the accounts I signed."
Yesterday Meehan revealed that he, Carillion's interim chief executive Keith Cochrane and Emma Mercer, then the finance director of Carillion's UK construction business, had revised the £845m writedown figure it publsihed last July up from an original £695m.
The joint chair of the inquiry, Labour MP Frank Field, was scathing of what he heard yesterday from auditors and the pension regulator. "We were told that these highly paid individuals are mere spectators – commentators at best, certainly not referees – at the mercy of reckless and self-interested directors. I fear it is not only Carillion that is built on sand: it is our whole system of corporate accountability."