A further £72m in savings made across other construction projects as part of £5.5bn efficiency drive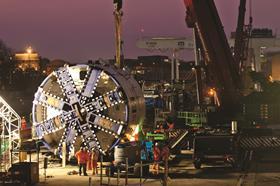 Whitehall has slashed £205m off the cost of London's Crossrail line and a further £72m off the cost of other major constructions costs as part of an ongoing efficiency drive that saw £5.5bn in savings last year.
The savings over 2011-12 have been driven by the Cabinet Office's Efficiency and Reform Group, which applied spending controls to Whitehall departments in a bid to cut spending on IT contracts, property, marketing, temporary staff and consultancy.
The savings figure is up from £3.75bn over 2010-11.
The Cabinet Office said the total savings of £5.5bn had been independently audited and included:
£1bn in savings achieved through a moratorium on consultancy spend
£205m off the Department for Transport's capital contribution to Crossrail
£72m off the cost of other construction projects
£200m reduction on the in-year cost of the government's property estate through exiting unnecessary properties and questioning each lease break before they were extended
Cabinet Office minister Francis Maude, said: "Given the size of the deficit this government inherited and the ongoing tough economic climate, we were determined to cut the fat from Whitehall.
"Because our controls on spending are working well and saving unprecedented amounts of money, I'm determined they will be a permanent feature of good governance.
But Jon Tricket, Labour's shadow Cabinet Office minister, said: "For all their talk of savings, this Tory-led government's failures are costing this country dear.
"David Cameron and George Osborne have delivered a double-dip recession made in Downing Street, and they are already having to borrow £150 billion more than they planned over the Parliament - the cost of their failed economic plan.