10-storey scheme will replace 1930s building
Wilkinson Eyre has been given planning for a 10-storey office development at Holborn Circus in the City of London, which will double the floorspace of the existing building on the site.
The practice's plans for Evans Randall Investors will require the demolition of 1930s Thavies Inn House, designed by Lewis Solomon, Son & Joseph – along with a 1950s extension to the original Neo-Georgian building.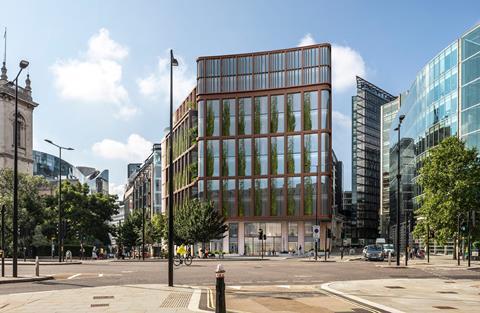 The new structure will deliver 12,102 sq m of new space, primarily for office use, on the site near the grade I-listed Church of St Andrew Holborn. The current buildings have 6,025 sq m of floorspace. A "pocket park" will also be created on the site as part of the proposals.
Square Mile planning officers said Wilkinson Eyre's proposals were designed in two "nested volumes", with the larger 10-storey section facing Holborn Circus, Fetter Lane, and Thavies Inn. The lower section steps down two storeys on St Andrew Street, facing towards St Andrew's Church. The current buildings are five storeys and nine storeys high.
Recommending the proposals for approval, planning officers said Wilkinson Eyre had expressed a "contemporary reinterpretation of a traditional hierarchy" in architectural terms.
Others working on the scheme include QS Alinea, building services engineer Sweco and structural and civils consultant AKT II.