City centre office will include energy-generating lifts
Willmott Dixon has chalked up a £33m office scheme in Bristol featuring a drone landing pad and lifts which generate energy when they descend.
The seven-storey, city centre building for local developer Cubex Land will be among the greenest offices in the UK, according to Willmott Dixon.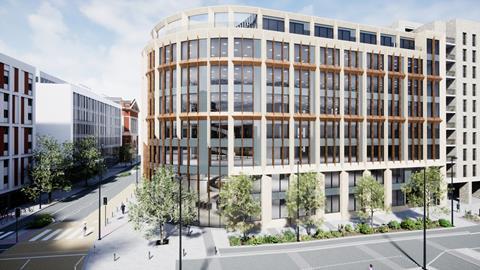 Designed by a team consisting of Assael Architecture and local practice The Bush Consultancy, the scheme, known as Halo, will see the former headquarters of the Avon Fire and Rescue Service demolished and replaced with 116,000sq ft of office space.
Others on the project team include project manager Jones Lang LaSalle, planning consultant Avison Young, engineer Arup, QS Currie & Brown and landscape consultant NPA.
It will be Willmott Dixon's third scheme for Cubex Land having completed an office and separate housing scheme for the developer at a site opposite the Halo job.
Drone landing pads have been made a requirement on all of Cubex's commercial projects. According to The Bush Consultancy project director Jarrad Owen, the idea is a "future-proofing element" to ensure the buildings can receive drone-delivered parcels from distributors such as Amazon, who are developing the technology.
For Halo, Owen said that he suggested a larger landing pad for flying drone-taxis, which are currently being tested in the UAE.
He added: "On this occasion the need is so far away from where we are now that it wasn't feasible – but don't be surprised if you see one on a building soon!"