Firm turns in improved figure on turnover up to £1.3bn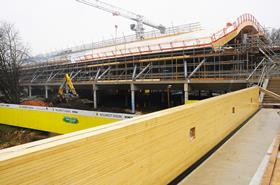 Willmott Dixon has reported a 14% rise in pre-tax profit a year on from de-merging its Be Living housebuilding and Fortem repairs and maintenance subsidiaries at the start of 2017.
The privately-owned contractor said it posted a pre-tax profit of £35.5m for the 12 months to the end of December 2017 on turnover of £1.3bn, up 6.6%.
Chief executive Rick Willmott said the group had made significant progress towards focusing on its construction arm since the demerger of Be Living and Fortem 18 months ago.
"The move to focus on our core business of construction and fit-out is consistent with what I think will be a general trend towards de-layering and simplification of business models in the construction sector," he added.
The group has been appointed the sole contractor for Procurement Hub's new major projects framework, a deal which could be worth £2.5bn to the firm in the next four years.
Speaking about the short-term trading outlook, Willmott said he was "mindful" of the challenges Brexit might impose on the workforce "of its supply chain, as well as exchange rate fluctuations on the cost of imported materials".
But he added: "We are confident these matters are better understood than 12 months ago and indeed 'priced in' to our workload assuming a 'soft' Brexit in 2019."