Willimott Dixon has bought a town-centre in site in Godalming with planning permission for 137 homes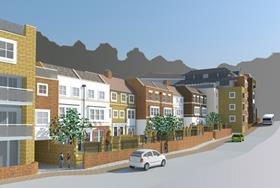 The firm said it had now exchanged contracts with Country Homes on the scheme, dubbed The Keysite, and would start work in the autumn.
It said that following the clearance of existing buildings the planned 102 apartments and 35 houses would be ready for occupation "by early 2015".
Willmott Dixon chief executive officer Andrew Telfer said the site purchase underlined the firms intention to become a significant-scale developer.
"Using know-how within our Regen team and our in-house construction skills, we are carefully identifying projects to develop that offer a fantastic buying opportunity in popular locations and excellent opportunities for investment return," he said.
"Investing in Godalming provides just such an opportunity. The Keysite will provide high-quality housing that will be an attractive addition to Godalming town centre, sustaining hundreds of construction jobs during the build period while attracting people to come and live in the town."
Willmott Dixon said its Regen development division now had more than 2,000 homes in the pipeline.
It added that the Godalming scheme had a gross development value "approaching £50 million" and would be a mix of Georgian-themed houses interspersed with four-storey apartment blocks.