Up to four firms will be shortlisted for Falmouth deal next month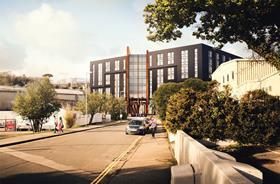 A shortlist of firms for a recently approved £55m student accommodation scheme in Cornwall will be drawn up next month.
Up to four contractors who a "demonstrable track record within the sector" will be given the chance to bid for the 528-bed deal which is being mastermind by specialist developer Studytel for the site near Falmouth. A winner is due to be named in January.
The Stride Treglown-designed building (pictured) will be the first of three phases to be put up on a former industrial estate in Penryn, which will eventually house between 1,000 and 1,500 students.
It will contain a mix of self-contained studios and apartments with additional shared kitchen and communal areas.
Studytel, which is working on the scheme with facilities management firm Sodexo, said it expected the building to be completed in time for the start of the 2020 academic year.