Willmott Dixon, Wates, Vinci, Kier and Mears among winners on £200m framework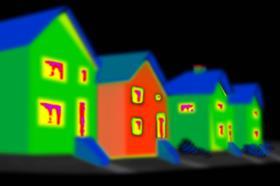 Procurement body Fusion 21 has appointed 68 contractors to a nationwide £200m four-year retrofit framework.
The national framework adopts a 'whole house' approach to retrofit and consists of 15 lots in total, covering areas including total retrofit, heat pumps, wind turbines, wall insulation, cladding and biomass.
The framework is open to all public sector clients to use, and can be used for both domestic and commercial buildings.
Winners include Willmott Dixon, Wates, Vinci, Kier and Mears and also includes a number of SMEs and social enterprises.
John Farley, framework manager at Fusion21, said: "We wanted to ensure the framework was developed with the detail our members required. Our final product is a flexible framework whereby our members can undertake a whole house approach to retrofit works.
"Those accessing the framework now have the ability to undertake multiple lots, singular lots, commission for commercial projects and work with local SME's. We have worked closely with the supply chain to ensure we are able to continually achieve innovation and efficiencies on behalf of our members."
Full list of winners
AM Energy Solutions Ltd
Anthony Dever Construction Ltd
Aran Services Ltd
Aspect Plumbing & heating Ltd
BAAS Construction Ltd
Bell group UK
British Gas Trading Ltd t/a EcL Contracts
Campbell Kennedy Ltd
Chris Bartholomew Electrical Ltd (t/a Ecosphere Renewables)
City West Works Ltd
CLC contractors Limited
Climate Energy Limited
Cornerstone East Anglia
Dodd Group
Eco Residential
Ecolution
Envirovent Limited
EON Energy Solutions Limited
ESH Construction Limited
Euro Energy services
Feed it Green Ltd
Forrest
Frank Rogers Building Contractors Limited
Gasway services Ltd
Hall Construction Group
Hamiliton Building Contractors
Heatforce Wales Ltd
HEC Contracting Ltd
Helena Partnerships
Homeworks Energy Ltd
Huyton Plumbing Heating Limited
ICR Group
Industrial Services Group
Inex Home Improvements Ltd
J Tomlinson Ltd
Jistcourt South Wales Ltd
Joju Solar
Keepmoat Regeneration Ltd
Kier Services Ltd
Lakehouse Contracts Ltd
Lawtech Ltd
Lovell
Magenta Living Building Services
Mark group
Mears Limited
Nationwide Windows
Opus Building Services Limited
Osborne Energy Ltd
Phoenix Gas Services Ltd
Rothwell Plumbing Services Ltd
Rural Energy Ltd
Seddon Construction Limited
SERS Energy Solutions Ltd
Solarcrown
Sovereign Group Limited
Sustainable Building Services UK Ltd
The AD Construction Group
The Caribou Green Warmth LLP
The Casey Group Ltd
The Green Electrician Group
Turner Facilities Management Limited
United Living (Bullock Construction Limited)
Vinci Construction UK Limited
Volkerlaser Ltd
Warmer Energy Services Ltd
Wates Living Space
Westdale Services Ltd
Willmott Dixon Partnership UK Ltd