Kier the sole firm to land place on all 12 lots
Kier, Bam and Vinci are among a host of firms appointed to a £700m capital works framework for three major UK airports.
Galliford Try and Murphy have also won spots on the five year deal (see full list below) for Manchester Airport Group, which operates Manchester, London Stansted and East Midlands airports.
The framework includes the option to extend by a further three years, bringing the total potential duration to eight years.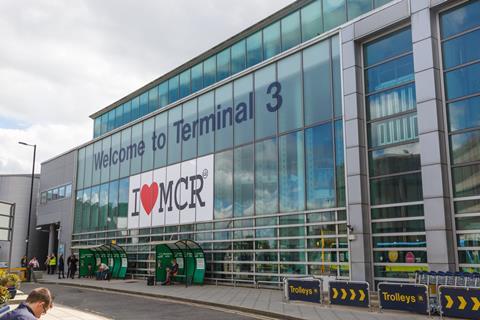 It is split into three disciplines, a £200m lot for civil construction works, a £300m lot for new build and fit out works and a £200m lot for refurbishment jobs.
Each discipline is then divided into 12 sub lots based on value bands and the airport at which the works will be carried out. Kier is the only contractor to have been appointed to all 12 lots.
Both Bam Nuttall and Bam Construct have been awarded places. Other firms to nab spots include Bowmer & Kirkland, Eurovia Infrastructure, Volker Fitzpatrick and FM Conway.
MAG capital delivery director Rob Stewart said the group has an "ambitious pipeline" of projects planned as it plots a route out of the impact of the pandemic on the aviation sector.
MAG reported a loss of £170m for the year to the end of March 2021 as passenger numbers fell by nearly 90% during the pandemic.
Lot 1 Civils £200m
Lot 2 New Build & Fit out £300m
Lot 3 Refurbishment £200m

Lot 1a North

Lot 1b South

Lot 1c North

Lot 1d South

Lot 2a North

Lot 2b South

Lot 2c North

Lot 2d South

Lot 3a North

Lot 3b South

Lot 3c North

Lot 3d South

Manchester East Midlands Airports

Stansted Airport

Manchester East Midlands Airports

Stansted Airport

Manchester East Midlands Airports

Stansted Airport

Manchester East Midlands Airports

Stansted Airport

Manchester East Midlands Airports

Stansted Airport

Manchester East Midlands Airports

Stansted Airport

Civils

Civils

Civils

Civils

New Build & Fit Out

New Build & Fit Out

New Build & Fit Out

New Build & Fit Out

Refurbishment

Refurbishment

Refurbishment

Refurbishment

£3m - £10m

£3m - £10m

>£10m

>£10m

£3m - £10m

£3m - £10m

>£10m

>£10m

£3m - £10m

£3m - £10m

>£10m

>£10m

Amalgamated Cons

Barhale Ltd

BAM Nuttall

BAM Nuttall

Farrans Tarmac

Farrans Tarmac

BAM Construction

BAM Construction

Farrans Tarmac

Farrans Tarmac

BAM Construction

BAM Construction

Eurovia Infrastructure

Eurovia Infrastructure

Farrans Tarmac

J Murphys & Sons

Galliford Try

GF Holdings

Bowmer & Kirkland

Galliford Try

Galliford Try

GF Holdings

Galliford Try

Galliford Try

Network Plus Services

FM Conway

J Murphy & Sons

Volker Fitzpatrick

Vinci

Vinci

Vinci

GF Holdings

Vinci

Vinci

Kier

Kier

Kier

Kier

Kier

Kier

Kier

Kier

Kier

Kier

Kier

Kier