Kier, Wates and VolkerFitzpatrick land spots on the job in Harlow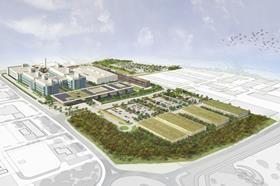 Public Health England has appointed three contractors to build its £400m public health science campus and headquarters in Harlow, Essex.
Kier, Wates and VolkerFitzpatrick all landed spots on the job, with Kier landing Lot 1, the largest of the four on offer.
The contractor was awarded the contract for the £160m specialist bioscience laboratory building, which will have an internal area 17,000m², and will also include its own dedicated energy centre.
Recent projects in the bioscience sector the firm has worked on include biomedical research facilities for The University of Cambridge, as well as the Derriford Research Facility for Plymouth University.
Nigel Brook, executive director of construction and infrastructure services at Kier, said: "We can expect to see specialist sectors continuing to play a key role in the construction market in 2018, whether this is bioscience thanks to strong Government stimulus and funding through the new industrial strategy, to student accommodation thanks to a buoyant higher education market, through to sectors like industrial that have gained stimulus thanks to the marked fall in sterling."
Wates landed two of the available lots, being appointed to carry out the refurbishment of the main building, which includes laboratories and offices, as well as the arrivals, administration and logistics buildings.
The final lot to undertake site-wide infrastructure, external works and energy centre was given to VolkerFitzpatrick.
PHE expects contractors to start work with the existing design teams next month, with major construction planned to begin in 2019. Phased occupation will start in 2021.