Construction to take three years
Winvic has been appointed by Warwickshire County Cricket Club and developer Patrizia as the main contractor on a £93m redevelopment of the Edgbaston Stadium Complex in Birmingham.
A new 56,500 sq ft entrance plaza, car parking facilities and a 375-home build-to-rent development with approximately 20,000 sq ft of retail and leisure space will be built on a residential site adjacent to the stadium.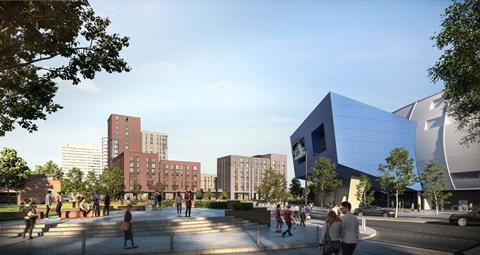 The Edgbaston 'Residences' complex (pictured) will comprise 375 apartments and Winvic will be constructing the five concrete-framed blocks of five, seven, eight, 13 and 18-storeys in-situ.
The new works are part of a wider regeneration of the area. They are expected to be completed by 2023, with the new plaza, landscaping and car parking due to be ready by Spring next year, when Edgbaston hosts the women's T20 tournament in the Commonwealth Games and a men's Test match between England and South Africa.