Plumbing and heating wholesaler notches up 4.7% revenue growth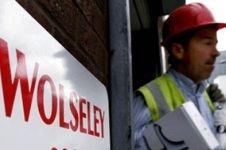 International building services group Wolseley saw its trading profit increase by 10% in the nine months to the end of April, the company said.
In an interim management statement this week, the Plumb Centre owner said its international trading profit of £139m had been achieved against a backdrop of a 4.7% growth in revenue.
Its net debt dropped from £314m at the end of April 2011 to £277m at the end of April this year.
Chief executive Ian Meakins said the operation had "continued to make decent progress".
"We held our gross margin overall and controlled costs to generate 10% trading profit growth in the ongoing business," he said.
"We will continue to pursue operating efficiencies and remain focused on customer service, gaining market share and protecting our gross margins.
"Given the uncertain economic outlook in Europe we will remain vigilant on the cost base while continuing to drive growth initiatives in the more robust markets."
Its UK figures showed an improvement on March's six monthly figures, with trading profit increasing from £23m to £26m, offsetting losses in France, the Nordic region, and central Europe.