Former Crossrail boss came under fire last month over ongoing delays to the cross-London railway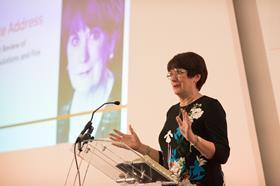 Judith Hackitt has become a non-executive director at HS2 while former Crossrail boss Andrew Wolstenholme leaves its board weeks after receiving a blast from the London Assembly.
The changes come as the UK's largest construction project comes under further political pressure, with chief secretary to the treasury and Tory leadership hopeful Liz Truss hinting she would scrap the scheme.
Hackitt has been appointed to scrutinise HS2's leadership, which since December has been led by chair Allan Cook after predecessor Terry Morgan was forced to resign over his role in the delay and overspend on Crossrail.
Now Wolstenholme, who was the chief executive of Crossrail from 2011 until March last year, has not been reappointed to the board.
Last month he was grilled by London Assembly members, with deputy mayor Joanne McCartney accusing him of misleading members a year earlier, when he gave "no indication" Crossrail could be late. New chief executive Mark Wild has said there is no chance the scheme will be finished this year and is due to give an indication of when it will open by the end of the month.
Wolstenholme has been replaced by Hackitt, with Stephen Hughes, a trained accountant, also joining the board. He was previously chief executive of Birmingham city council for 10 years.
Hackitt remains chair of manufacturing trade body Make UK, having also led the independent review of building regulations and fire safety after the Grenfell tower tragedy.
The DfT also reappointed Roger Mountford, an ex-board member of the Civil Aviation Authority, and Ed Smith, a former PwC global chairman and lead non-executive director for the DfT, to their existing non-exec roles.
Meanwhile, asked if she would scrap the HS2 project Truss told the Spectator this week: "That's a matter for the zero-based capital review that I'll be looking at very intently."
She added: "We have to be rigorous about what infrastructure is going to maximise opportunities for people."