Wolverhampton Wanderers to rebuild at least two stands at Molineux ground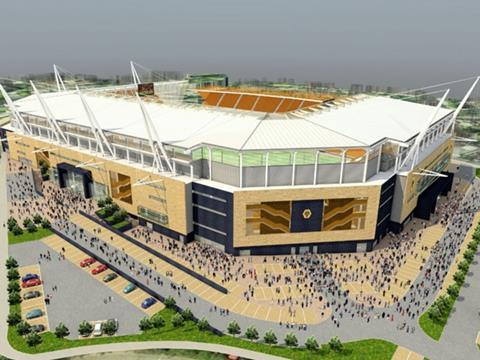 The planned £40m redevelopment of home ground Molineux
Wolverhampton Wanderers have unveiled plans for a £40m redevelopment of home ground Molineux.
The club has announced plans to increase capacity from 29,000 to 36,000 in time for the start of the 2014/15 season. Over three years, the Stan Cullis and Steve Bull stands will be demolished and new two-tier stands created.
Following that, the Jack Harris stand would gain a new tier, and if further seats are required the Billy Wright main stand may be redeveloped.
Molineux was the first stadium to be renovated following the Lord Justice Taylor report and the stands are less than 20 years old. However, chairman Steve Morgan has decided that renovations are needed to improve matchday atmosphere and to increase revenue.
Jez Moxey, chief executive of the club, said: "We hope to submit a detailed planning application this summer for redeveloping the Stan Cullis stand and we have the funds necessary to build it without borrowing any money. When that's finished we'll move onto the Steve Bull stand before considering our next move."