Architect Woods Bagot has unveiled designs for the new home of Italian football club Roma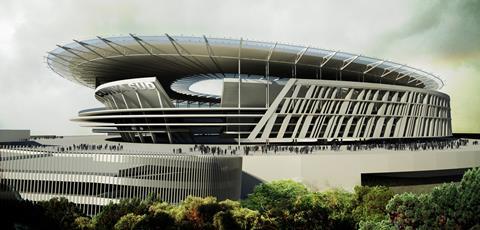 The club currently shares Rome's Stadio Olimpico with city rivals Lazio but from the start of the 2016/17 season the team, who have won the Serie A league title three times in their 86 year history, will be playing their matches in a new 52,500 seat ground.
Costing close to £250m, Woods Bagot said the stadium's design has been influenced by The Colosseum.
Woods Bagot Sport design leader Dan Meis said: "For an architect who has spent much of his career designing stadiums, and most of his vacations in Italy, the Stadio della Roma truly is a project of a lifetime."
A feature of the design is the new 'Curva Sud' – the section of the existing Stadio Olympico that is home to Roma's ultras or hardcore supporters – which will be a steeply pitched, clearly delineated separate section of 14,800 seats.
Another feature of the scheme is a massive hydraulic lift that will allow the players to be ferried up to pitch level.
The stadium, which will also be used to stage other events such as music concerts, will be built in the Rome's Tor di Valle district, south west of the city centre.