Contractor Graham has begun work on the £17.3m redevelopment of the University of London's Senate House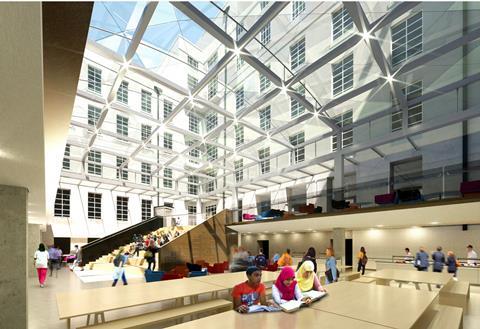 The north block of the Grade II* listed building in Bloomsbury is being redeveloped to accommodate an expansion of the university's School of Oriental and African Studies.
The construction project will involve a substantial remodelling of the the block's five floors, which have been unoccupied for several years and sub-divided into offices.
The building, the tallest in the UK when it was designed by Charles Holden, is being restored using high quality materials, including Portland stone.
In addition, a new glazed plaza will be created by filling in the precinct at the centre of the 1930s structure.
Graham is lead contractor on the project, on which Mace is acting as designer, project manager and quantity surveyor. Graham won the appointment as main contractor on the project in April this year.
The redevelopment works are due to be completed by January 2016 and the project was part funded by a £5 million gift to SOAS from the US Alphawood Foundation.
The project will be part of the pilot BREEAM (Building Research Establishment Environmental Assessment Method) Excellence 2014 award, which is the industry standard for best practice in sustainable design.