Worker on site tested positive for covid-19 yesterday
Work is continuing on Laing O'Rourke's £1bn Manchester Airport job despite the project reporting its first positive test for covid-19 yesterday.
A picture of a sign posted at the site on 23 March confirmed work on the project was continuing.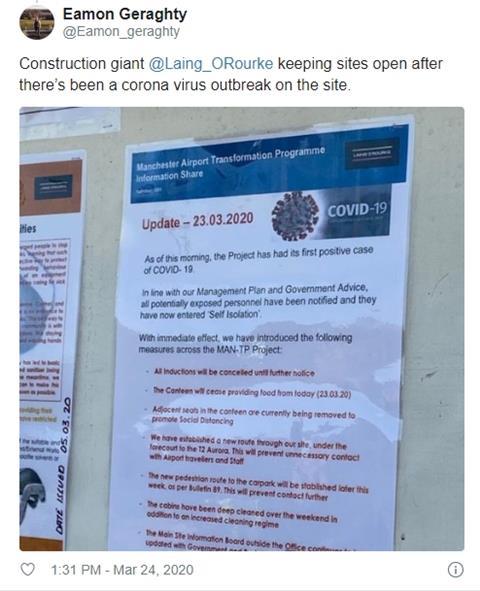 It said: "In line with our management plan and government advice all potentially exposed personnel have been notified and they have now entered self-isolation."
The firm also laid out new measures that had been introduced in wake of the positive test.
It said adjacent seats would be removed from the cafeteria to promote social distancing and that it would stop serving food immediately.
It also said a new route had been established through the site and that all inductions had been cancelled.
Laing O'Rourke has been contacted for comment.
*PLEASE RETWEET WIDELY* Contractors are ignoring govt. health advice. "All construction sites are critical to the economy". Is that advice in accordance with govt. advice to PROTECT THE NHS?
Is this the message that construction employers wish to convey to the public? pic.twitter.com/mqPPTCfpwq

— Paul Frost (@paul622gol) March 24, 2020
Meanwhile, electrical contractor TClarke has said it will keep all its sites open and will reallocate staff from one site to another if a site is forced to shut.
It said: "The guidance from the government is that all construction sites are critical to the economy so they will remain open and we expect you to attend the site as normal."
TClarke said it would update staff by the end of the day.