The Vaux development has been stopped for the past six months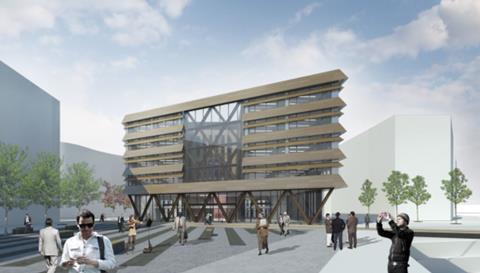 Work has finally restarted on the Sunderland office scheme that has been stalled since Carillion collapsed in January.
The Vaux scheme, which is on the site of a former brewery, is set to be completed by north-east headquartered contractor Tolent, with Sunderland City Council's development partners Siglion confirming the appointment.
Tolent has been tapped to complete phase one of the development, replacing Carillion.
The Feilden Clegg Bradley Studios-designed scheme, on the site of a former brewery, is one of a number of regeneration projects in the pipeline for the city as part of the programme being carried out by Siglion, a joint venture with the council which was made up of Carillion and developer Igloo.
Carillion and Igloo won the £800m 20-year contract to deliver the city's regeneration programme in 2013. When signed the deal was worth £100m to Carillion in the first eight years.
Tolent has restarted work on the scheme's first building, The Beam, which is expected to open early next year. It will provide 59,000ft2 of office and leisure space.
Leader of Sunderland City Council, councillor Graeme Miller said: "The redevelopment of this site is of massive strategic importance to the future of our city, and we can all be delighted that building is about to resume.
"We have been working hard with Siglion to find new construction partners since Carillion got into difficulties and believe in Tolent that we have found the company best placed and prepared to take things forward."
Siglion's David Roberts said: "The collapse of Carillion Construction meant that work on Vaux had to cease in January and it has been a painstaking process to move this forward in a way that would not undermine the warranties associated with this building, as well as the quality of the space, which is paramount to us, given the significance of this site."
The council confirmed it was retendering the project in March. At the time the council confirmed it and Siglion had completed legal formalities and Carillion's construction contract had officially been terminated.
The loca authority bought the site from supermarket chain Tesco in 2011 and has long-term plans to develop it into a new business district.