Main contractor Balfour Beatty says workers have returned to £18m Third Don Crossing, but not to the incident area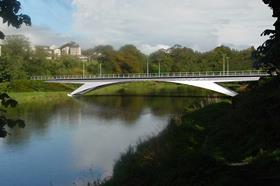 Work has resumed on the £18m Third Don Crossing in Aberdeen after a construction worker on the project tragically died at the site north of the crossing last Wednesday.
Balfour Beatty is the main contractor on the river crossing, which involves building a 90m bridge structure and 1.5 miles of connecting roads on both sides of the River Don.
In an updated statement, a Balfour spokesperson said: "Following a full briefing for all workers on site, Balfour Beatty can confirm that, with the exception of the area of the incident, works at The Third Don Crossing have resumed [on Monday 18th] after the tragic fatality which occurred on Wednesday 13th January."
With the exception of the area of the incident, works at the Third Don Crossing have resumed

Balfour Beatty
A spokesperson for the Health and Safety Executive (HSE) said the safety body is aware of the incident and is currently investigating.
The spokesperson said HSE could not comment any further while the incident is being investigated.
Balfour Beatty said works on the Third Don Crossing began in August 2014 and are due for completion in late spring 2016. The fatality follows delays on the scheme, with the crossing job originally due to be completed by the end of last year. Aberdeen City council confirmed in November 2015 that the scheme would not be finished until at least March 2016.
Speaking in November last year, the council's finance, policy and resources committee vice-convener, councillor Ross Thomson, said the project's end date had been pushed back due to unexpected delays with re-routing underground utilities to the Aberdeen Western Peripheral Route (AWPR). "Due to the huge size and scale of the project - which is Aberdeen's biggest major new bridge infrastructure for 30 years sinceQueen Elizabeth Bridge – it is not a surprise that some unexpected issues do crop up from time to time."
The AWPR is a £745m bypass across Aberdeen which is due to be completed in spring 2018.