Review by developer focussing on design specification and interiors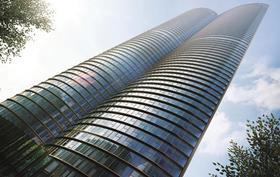 Work on a 67-storey tower being built by Aecom in London's Docklands has been stopped after the developer ordered a review of the job.
The US consultant beat a number of traditional tower builders, including Multiplex, to the main contractor role signing a pre-construction services agreement with the developer, Chinese firm Greenland Group, last May.
The deal was something of a coup for Aecom – which referred inquiries to Greenland – as it looks to branch out from its traditional role as a consultant which is also seeing it look to expand its developments arm in the UK.
Enabling works have been carried out by Bachy Soletanche with the main build and work on the basement expected to have begun by the end of the year.
But Greenland said it is now running the rule over the £800m scheme, called Spire London (pictured), which has been designed by architect HOK.
It said the review was "in line with internal policy" and a spokesperson added: "Greenland UK is pleased with the works carried out by both Bachy Soletanche and Aecom in the first phase of the pre-construction services agreement.
"These works have been completed as planned and the development is now ready to enter the second phase of the pre-construction services.
"In anticipation of this, and given the scale of the project and the iconic nature of the building, and in line with Greenland Group's internal policy, Greenland Group now plans an assessment of all procedures and aspects of the project to ensure that the scheme provides the most up-to-date design specification and interiors."
The firm said it expected to be able to provide more information shortly.
The tower will house 861 apartments of which 765 are for private sale. It will also feature a residents' garden, along with a private members' club incorporating a health club, gym, spa and swimming pool.
At the time it signed the deal last year, Aecom's group president Dan McQuade said: "We are very excited to work with Greenland on this iconic project in the heart of London's Docklands."
Last week Building revealed that work on the next phase of another high-profile residential scheme, Qatari Diar's Chelsea Barracks development, had ground to a halt after the developer pulled main contractor Multiplex from the fourth phase just days before it was due to begin.