Final sign-off yet to be agreed
The package of works to replace non-compliant cladding on the Liverpool hospital left stranded by Carillion's collapse has not yet been procured – despite the issue being identified more than eight months ago.
Papers published ahead of this month's meeting of the Royal Liverpool and Broadgreen University Hospitals NHS trust reveal there is no timetable for the works to be carried out.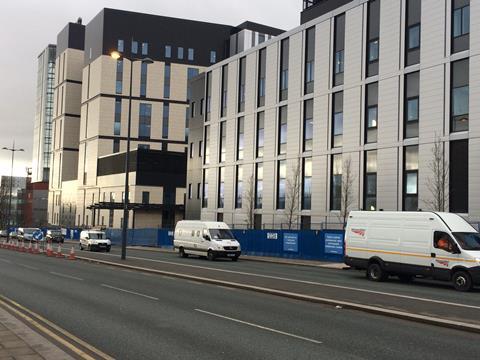 Last September a structural review by Arup uncovered that the hospital did not meet HTM05-02 Firecode Fire Safety – the requirements set out for healthcare centres.
In his report to the board, the trust's interim chief executive Peter Williams said: "Currently the contract for replacement of cladding has not been finalised."
But the trust has downgraded the corporate and financial risk posed by the faulty cladding saying that it has come up with a plan to carry out the remediation works.
It said a "workable solution" had been identified for the cladding issue but that final sign-off from Building Control was still to be agreed.
The cladding is just one in a string of structural issues to have plagued the building with the first problems being revealed shortly after Carillion collapsed last January, when the contractor's former chief executive Richard Howson admitted there were cracks in a number of structural beams.
Other issues have included problems with the ventilation system in the anaesthetic rooms in theatres.