The buildings will service £2.6bn off-shore wind farm off the coast of Scotland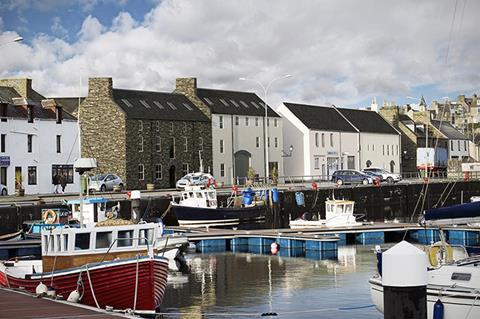 Work has begun on the £10m renovation of maritime buildings in the harbour of Wick in Caithness, Scotland to act as a hub for the new £2.6bn off-shore wind farm.
The buildings were originally designed in 1807 by Scottish engineer and first president of the Institution of Civil Engineers, Thomas Telford, to support the areas maritime industry.
The new designs for the buildings, which will service the wind farm's 84 turbines have been done by HRI/Munro Architects with consultant Pick Everard, which is providing mechanical and engineering services.
Beatrice Offshore Windfarm is being delivered by Scottish and Southern Energy (SSE) in joint venture with Spanish-owned Talisman Energy (UK). It is expected to be operational in 2019.
Doug Soutar, director at Pick Everard, said: "The onshore element of the project comprises the conservation, re-planning and part reconstruction of two blocks of the historic Old Pulteneytown area of Wick.
"These buildings are more than 200 years old and have a longstanding history of being used for maritime purposes."
Steve Wilson, senior project manager for SSE, said: "These buildings will become our long-term operations and maintenance base for Beatrice windfarm.
"These Thomas Telford buildings are a symbol of Wick's industrial and marine past so we are really pleased to be utilising them and in doing so help continue that legacy."