The six lot framework will cover the west of England and Wales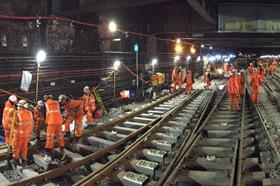 Network Rail has started the search for contractors for a £4bn framework for the west of England and Wales.
The framework, which has been divided into six lots, will cover both buildings and civil engineering as well as signalling, power and communications work.
It includes renewals, enhancements, urgent interventions and professional services including construction, planning ans project management.
There are two lots covering work in the West, one that will be for work worth up to £4m and the other covering jobs with a value between £4m and £30m.
The other four lots cover Wales and are divided by the type of work. Lot three covers civils, lot four is for work relating to metallic structures, lot five is for signalling, electrification and plant, while lot six covers geotechnical work.
The CP6 framework is expected to run for three years with five additional one year extension options to equal a total of eight years.
Network Rail is holding a supplier engagement event in the week beginning 17 September, while expressions of interest and pre-qualification questionnaires are expected to take place the following week.
Shortlisted firms are expected to be invited to tender in the week starting 18 February next year while the contract is expected to be awarded in the middle of next October.
Each firm can win a spot on up to five lots.