730-strong firm operates in Chile, Colombia, Mexico and Peru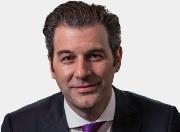 WSP has bought Chile-based engineering and environmental consultancy Poch as it expands its operations in Latin America.
Established in 1989, the 730-strong firm also has offices in Peru, Colombia and Mexico.
WSP president and chief executive Alexandre L'Heureux (pictured) said: "The acquisition of Poch, which was financed using our available cash and credit facilities, is aligned with our 2015-2018 Strategic Plan and represents a significant milestone in our ambition to become a top-tier pure player in Latin America.
"With 540 employees, the Chilean office is strategically located for our operations and positions us for continued growth in Chile. In addition, Poch's recognized expertise in other countries complements and enhances our range of services in the region."
Miguel Sanchez Carril, chief executive of Poch, said: "We believe that as a global player with a strong reputation, WSP is the perfect partner for us and that uniting our teams will create tremendous opportunities for both clients and employees."
"WSP has been actively involved in various iconic projects around the world. Such scale and experience should enhance our capacity to bid on larger projects, enabling us to compete with international firms and broadening the scope of our business in Latin America and internationally."
WSP has expanded rapidly over the past 10 years, through a combination of organic growth and 85 previous takeovers, including transport-focused UK consultant Mouchel from Kier last autumn and global engineering business Parsons Brinckerhoff from Balfour Beatty in 2014.
The Tornoto stock exchange-listed WSP employs over 36,000 people worldwide.