The Planning Inspectorate has formally accepted plans of the Anglesey plant for consideration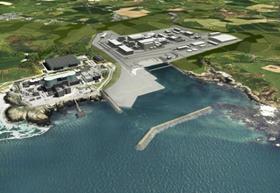 Plans for a new £10m nuclear power plant in Anglesey have been formally accepted for consideration.
The development consent order (DCO) for the Wylfa Newydd power plant, which is being developed by Horizon Nuclear Power, owned by Japanese congolomerate Hitachi, was submitted at the start of last month.
The 41,000-page application has now completed its statutory 28-day period of review by the Planning Inspectorate to ensure it met the standards required.
Duncan Hawthorne, Horizon chief executive, said: "This is a significant milestone for Horizon and an important step on the path to having all the permissions we need to build Wylfa Newydd."
"The power station will not only deliver huge benefits for Anglesey, where it will provide top-quality employment for local people and significant opportunities for local businesses, but it will also play a key role in the UK's energy future, delivering much-needed low carbon, safe and secure power for decades to come."
Once completed it is expected the plant will provide energy for millions of homes.
The DCO process will now start with the pre-examination phase, which sees the plans being thrown open to public consultation.
Four key environmental permits have also been cleared to begin their assessment by Natural Resources Wales (NRW).
Horizon's application for a marine licence, operations combustion permit, operations water discharge permit and construction water discharge permit have now progressed to the next stage of their respective determination processes, with NRW launching a public consultation process.
The approvals come a month after energy secretary Greg Clark confirmed that Wylfa Newydd was the next project in the UK's nuclear new build programme and announced the start of formal negotiations between Horizon's parent company Hitachi and the government on financing support for the project.