Back in the 1850s, readers were just as excited about developments in the railways as they are today – but for the right reasons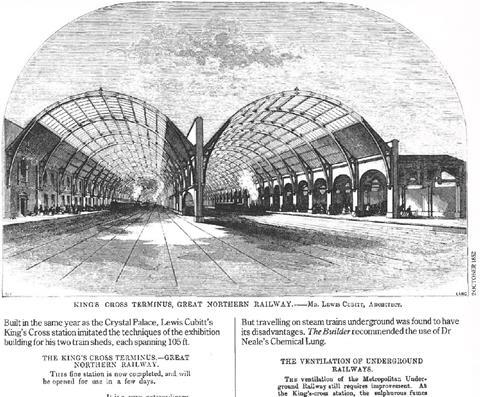 The Age of Steam
For most people, except railway enthusiasts, travelling by train produces little more excitement than a slight rise in blood pressure as the passenger realises that the cancellation of the 8.34 from Cambridge is going make them miss the beginning of yet another meeting and mean they have to stand all the way there, writes Helen Burch.
The late running and rising budgets of Crossrail, which we report on in News Analysis this week, also signals an event with which industry readers will be wearily familiar – a large infrastructure project being delivered late.
However, readers in Building's formative years were thrilled by railway construction as the steam age powered ahead. The King's Cross Terminus opened in 1852, taking architectural inspiration from the Crystal Palace. "It is a very extraordinary design and reflects honour on its designer Mr Lewis Cubitt," wrote Building.
The world-famous Clifton Suspension Bridge was another key development. The structure, originally designed by Isambard Kingdom Brunel, took more than 30 years to build, beginning in 1831 and not completed until 1864. So perhaps the Victorians would have recognised the Crossrail situation after all.
To read a snippet of the article from 2 October 1852, click on the link below.