Architects Gillespie, Kidd & Coia win the redevelopment job of a Cambridge University campus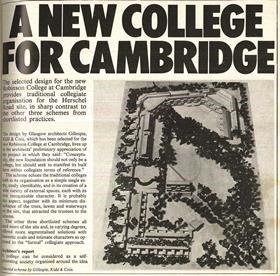 A new college for Cambridge
The redevelopment of Oxford University's prestigious, 556-year-old Magdalen College takes focus on page 36 of this week's issue. However, 40 years ago - almost to the day - it was the university's Cambridge rivals who were undergoing campus regeneration.
Published on 29 November 1974, Building reviewed the new design of Cambridge University's Robinson College. Having seen off three other shortlisted schemes for the Herschel Road site, the winning design from Glasgow architects Gillespie, Kidd & Coia was adjudged to fuse the historic identity of the college with a calm seclusion.
Speaking of the winning design, Building wrote: "The scheme echoes the traditional colleges both in its organization as a simple single entity, easily identifiable, and in its creation of a wide variety of external spaces, each with its own recognisable character. It is probably this aspect, together with its minimum disturbance of the trees, lawns and waterways on the site, that attracted the trustees to the scheme.
The other three shortlisted schemes all used more of the site and, in varying degrees, offered more segmentalised solutions with domestic scale and intimate characters as opposed to the "formal" collegiate approach."