40 years ago a marketer was pushing a radical residential idea – to get rid of architects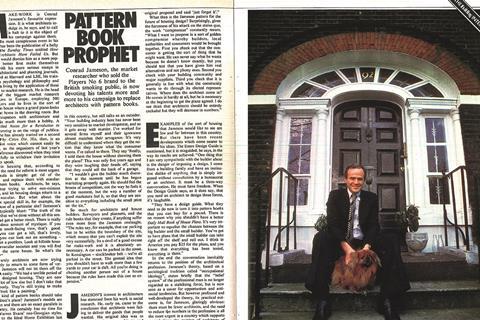 Pattern book prophet
As Building reports on the many resi towers in the pipeline for London and New York, we look back to 1977 when marketer Conrad Jameson was pushing a radical residential idea, which was not well received by much of the industry - but possibly favoured by others – to get rid of architects.
Photographed stroking a small dog in a mildly Bond-villainesque way, the market research expert outlined his campaign to replace architects with pattern books. He said architects needed to stop solving non-existent problems and return to the "true vernacular", accusing the profession of trying to make housing "look like a painting".
"There's no reason why you shouldn't have a better Daily Mail Book of House Plans," he said, and referenced US practice. "I think in America you pay $25 for the plans, and you know that everything has been tested, everything is there."
For any housebuilders who may be agreeing enthusiastically with his views, Jameson wasn't too kind to them either. He claimed they got "away with murder" and also commented that builders' "ignorance almost matches their arrogance".
His views, however, didn't stop him living in a very picturesque Kensington house.
To read the full article from 3 June 1977, download the PDF below.